Kamala Harris', The nation's first female vice president-elect, appearance in American Vogue has caused some controversy for being too casual and 'washed out', with the Vice President-elect's team surprised by the magazine's decision.
A leaked copy of February issue cover, which shows Harris in a black jacket and Converse sneakers, shot in front of a pink and green background began circulating online this Sunday. The photo instantly got attention on social media for bad lighting and poorly styled, while others saw it to be disrespectful to the Vice-President.
The controversial image was not the one she had expected to be on the front page. Harris team believed that the cover would feature her posing in a light blue suit against a gold background.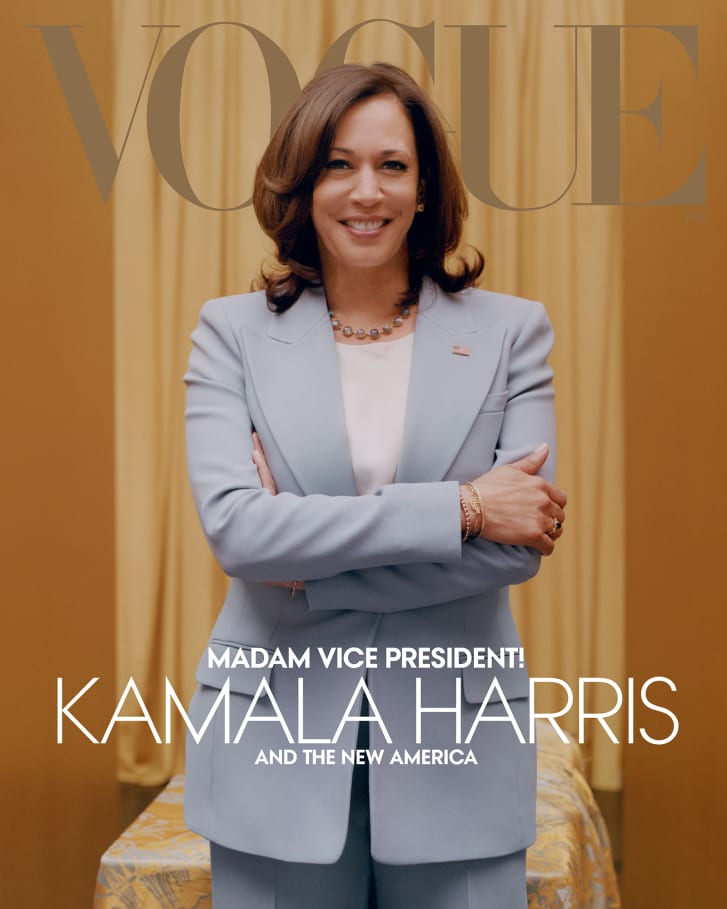 Some Twitter users even questioned if the image was fake or not but vogue confirmed it to be as real. They also released another digital cover, which shows Harris in powder blue Michael Kors suit against a gold background. Harris Team had expected that this would be the cover and the one with casual clothing will appear inside the magazine. 
A spokesperson for Vogue said in an emailed statement that Vogue "loved the images Tyler Mitchell shot and felt the more informal image captured Vice President-elect Harris's authentic, approachable nature — which we feel is one of the hallmarks of the Biden/Harris administration. To respond to the seriousness of this moment in history, and the role she has to play leading our country forward, we're celebrating both images of her as covers digitally." Both images were taken by Tyler Mitchell, who posted just one of the covers, in which Harris is in a blue suit, to Instagram.
In the article explaining the influences behind the cover shot, Vogue said that they chose pink and green colors for the background because they were inspired by the colors of Howard University's Alpha Kappa Alpha, the "first historically African American sorority." They also said Michell wanted to "honor Harris's college days and the powerful women who comprise the ranks of sororities like Alpha Kappa Alpha."
The article also mentioned that the Vice President-elect's styling choices "were her own," and that the image "shows Harris at her casual best."However, the pictures were not only criticized for the poor styling but also that her skin appeared to be washed out and not keeping up with Vogue's glamorous aesthetic. Playwright and lawyer Wajahat Ali described it as a "mess up," adding that Vogue editor-in-chief Anna Wintour "must really not have Black friends and colleagues."
Meanwhile, Washington Post's senior critic-at-large Robin Givhan, wrote that while "there's nothing inherently wrong with this picture," in selecting the more informal one as its cover, "Vogue robbed Harris of her roses." "A bit of awe would have served the magazine well in its cover decisions. Nothing about the cover said, 'Wow.' And sometimes, that's all Black women want, an admiring and celebratory 'wow' over what they have accomplished."
But not everyone was so pessimistic of the cover. "Folks are arguing over the photo chosen for VP Harris's Vogue cover, but here's what's important: she looks great, she's being honored, and the cover is driving Trump and Melania nuts," tweeted novelist Paul Rudnick.  Celebrities like Gigi Hadid and Bella Hadid also posted stories on Instagram, supporting Kamla Harris.