The Beirut Explosion on August 4, 2020, was caused by a large fire at the Port of Beirut, Lebanon, on the city's northern Mediterranean coast. In videos posted on social media, you can see white smoke coming out of the port.
Shortly after the fire, at 15:00 GMT, the roof of the warehouse lit up in flames and there was a large explosion, which was followed by a series of smaller explosions which witnesses said sounded like fireworks going off. About 30 seconds later, there was a larger explosion that produced a dome-shaped cloud that engulfed that section of the city center. 
The explosion was so massive that it destroyed all the buildings near the port and caused a significant amount of damage to the rest of the city, which has a population of about 2 million people.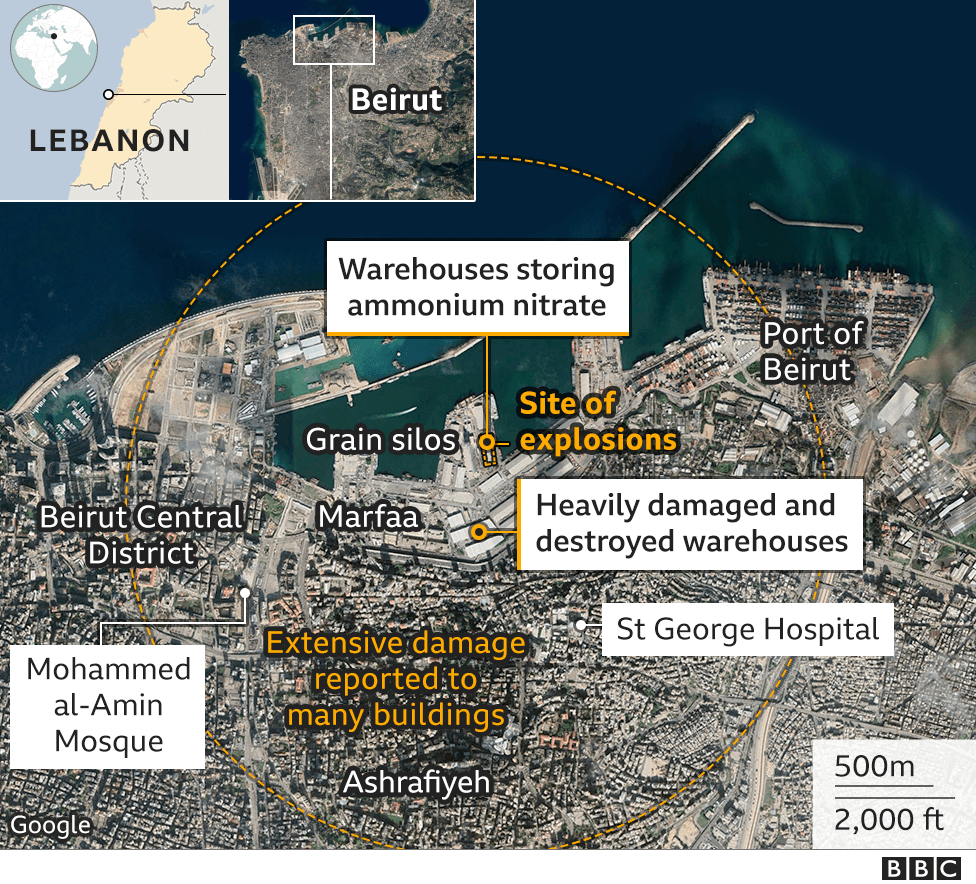 "What we are witnessing is a huge catastrophe," said the head of the Lebanese Red Cross, George Kettani. "There are victims and casualties everywhere."
Beirut Governor Marwan Abboud said that about 300,000 people had been made temporarily homeless and that collective losses might reach $10-15bn (£8-11bn).
The blast ripped through the city, destroying cars, shattering glass, and causing some homes to crumble. Many buildings were damaged, including the headquarters of former Prime Minister Saad Hariri.  Homes as far as 10 kilometers away were damaged, according to bystanders.
Shockwaves from the explosion even shattered windows at Beirut International Airport's passenger terminal, which is about 9 km away from the port. Even people in Cyprus, around 240 kilometers (150 miles) away, felt it, and a 3.3 magnitude earthquake was recorded. Officials said that at least 135 people were killed in the blast and another 5,000 were wounded. The explosion also created a crater which appeared to be about 124 meters in diameter.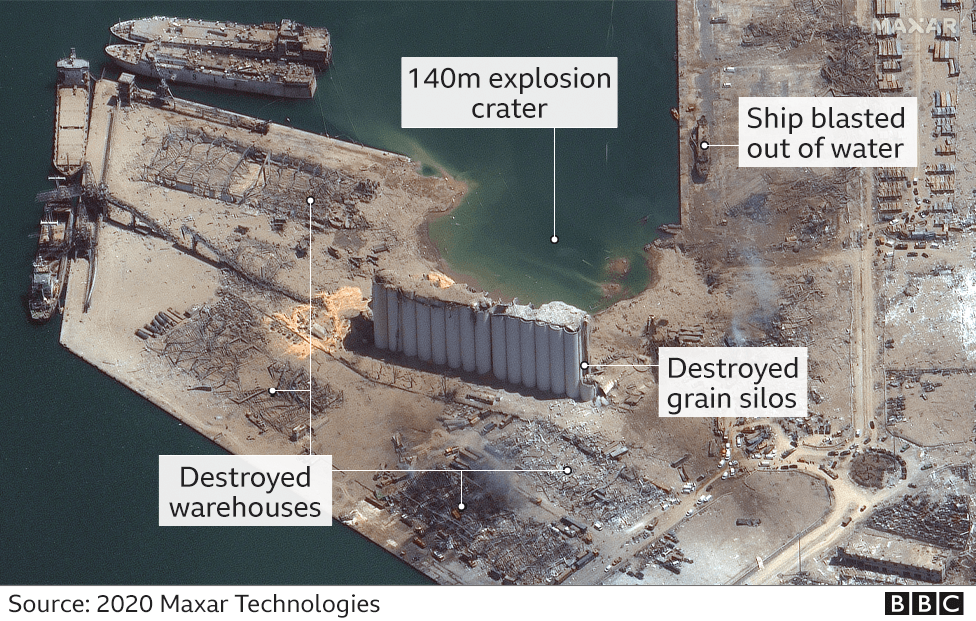 Satellite and aerial images show how warehouses close to the explosion were ripped apart.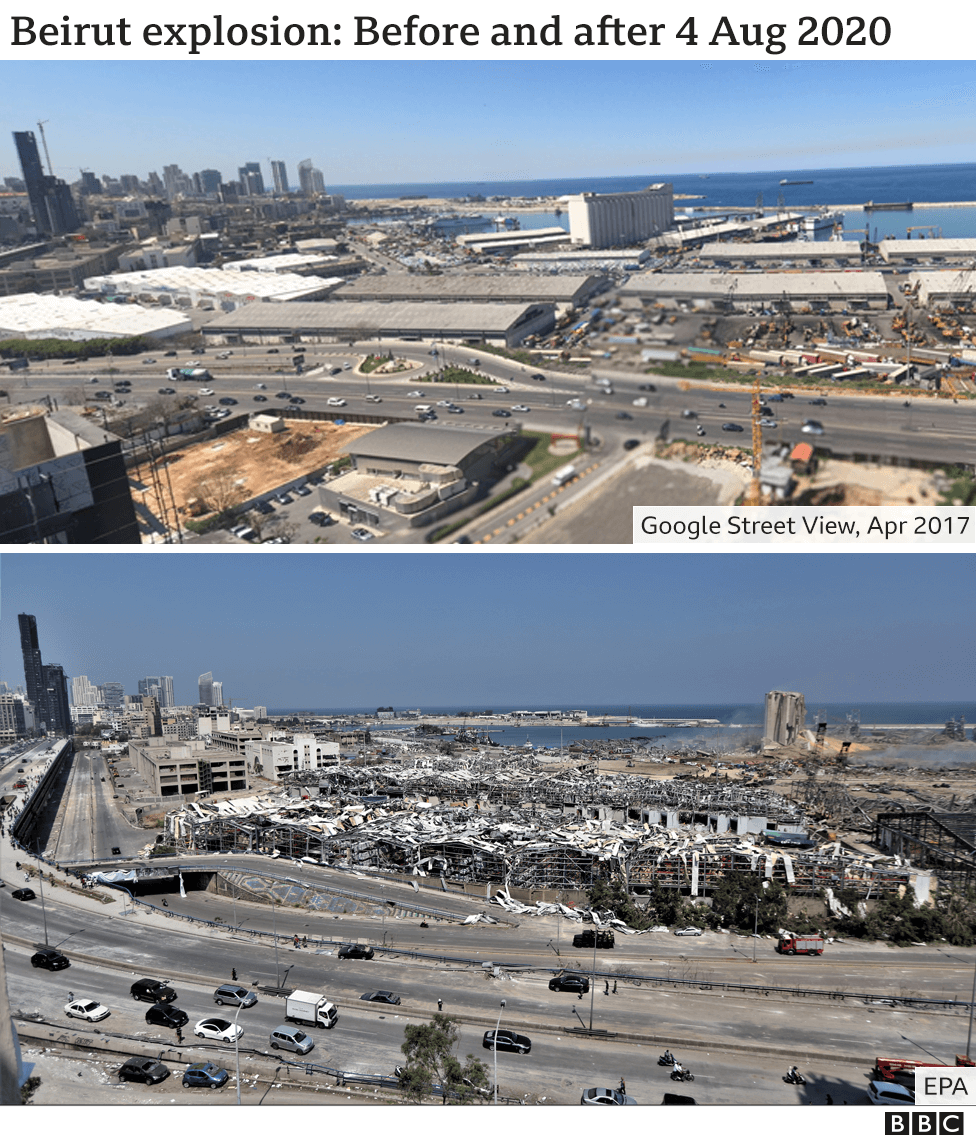 Hassan Diab, Lebanon's Prime Minister, blamed the explosion on 2,750 tonnes of ammonium nitrate that he said weren't stored safely at the warehouse in the port.  Reportedly, the ammonium nitrate was inspected and banned from being transported outside of the country, which caused its owner to abandon it. It was then transferred to Warehouse 12 and should have been disposed of or resold.
According to BBC News: "Ammonium nitrate is a crystal-like white solid commonly used as a source of nitrogen for agricultural fertilizer. But it can also be combined with fuel oils to create an explosive used in the mining and construction industries. Militants have made bombs with it in the past. Experts say that ammonium nitrate is relatively safe when stored properly. However, if you have a large amount of material lying around for a long time it begins to decay." 
Lebanese broadcaster LBCI and Reuters News Agency said that the fire was started by welding work which was being carried out in Warehouse 12. The port's general manager, Hassan Koraytem, confirmed that maintenance was in fact being done on the door of the warehouse before the explosion.
"We were asked to fix a door of the warehouse by State Security and we did that at noon, but what occurred in the afternoon I have no idea," CNN quoted him as telling OTV.
President Aoun assured that there will be a transparent inquiry into the blast and at least 20 people have been arrested so far.
Prime Minister Diab described the events that led to the explosion as "unacceptable," but resigned six days later. He did not take any kind of responsibility for the blast and instead accused the country's fortified political elite.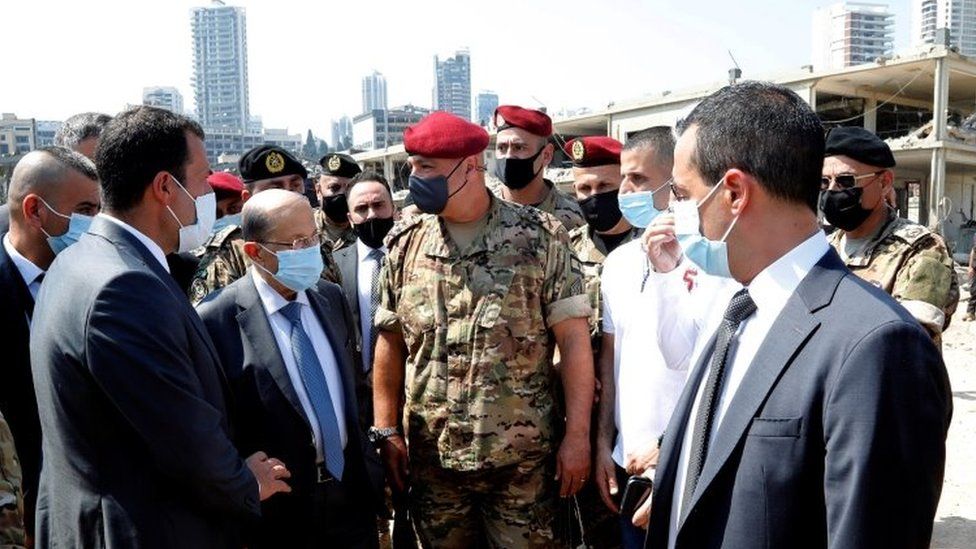 Mr. Koraytem and the director-general of Lebanese Customs, Badri Daher, warned how dangerous it was to store ammonium nitrate and asked for it to be removed, but were ignored repeatedly.
"We requested that it be re-exported but that did not happen. We leave it to the experts and those concerned to determine why," Mr. Daher told broadcaster LBCI.
The government has ordered to put those officials at the port who oversaw the storage of the ammonium nitrate under house arrest until the completion of the investigation.
Meanwhile, Lebanon's minister of public works told Al Jazeera that he found out about the nitrate in July and spoke with the port's general manager just two days before the explosion.
"No minister knows what's in the hangars or containers, and it's not my job to know," Michael Najjar, who has been in his post for six months, told the channel.
President Aoun has so far discarded the possibility of any international investigation and has instead suggested that the blast was led by some "external interference through a rocket or bomb or other act."
Most of the Lebanese were unimpressed and didn't believe in the government's promises of transparency; even after, the government's resignation anger continued, with many believing that the explosion was the result of years of endless corruption and mismanagement.